Venture Machine & Tool, inc.
1109 Venture Place
Onalaska, WI 54650
Phone: (608) 783-8114
Shipping/Receiving Hours:
7:30 am to 5:30 pm
Please call 1 (608) 783-8114 to schedule an appointment outside of these hours.
Mission Statement:
To exceed customer expectations within an environment fostering teamwork and continuous improvement
This 1980 photo of Venture Machine and Tool shows the 2,000 sq. foot building Don Atkinson founded and demonstrates our growth as we now have 87,000 sq. ft. with 75 employees and over 15 million in annual sales.
We are a full service tool and die shop with production stamping capability to 1000 Tons providing coil-lines, servo transfer and secondary press lines.
We have (4) shipping and receiving docks to ship an average of 45,000 lbs. daily of our customers parts. We provide engineered packaging which is bar coded to our customers' specifications.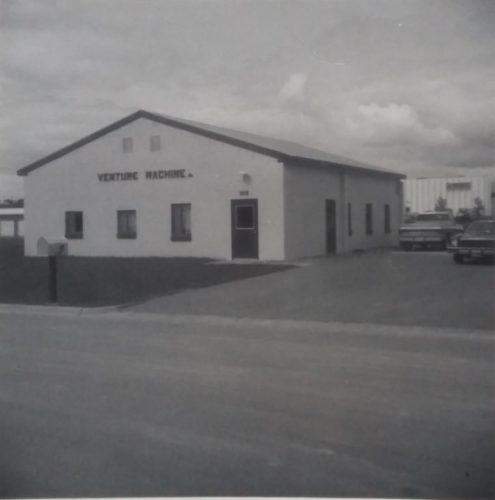 We have enjoyed 37 years of growth and plan for additional expansion and value added equipment to continue to make us the one stop shop our customers are looking for today.
Our central location in the upper Midwest with direct access to major road, rail, water and air corridors ideally positions us to provide effective and efficient large and small run stamping, assembly and distribution to fit your organization's particular needs.
Full Service Tooling Design and Production Tooling Company
Prototyping, Fixtures, Stampings, and Dies
Precision Machining
Production Stamping
Clean and organized shop
Environmentally friendly facility with recycling programs for all available waste.